Bobblehead CHINA is committed to your success!

Bobblehead CHINA is a professional and experienced bobblehead manufacturer since 1999. Our factory is located at Dongyang, Zhejiang Province, four hours' driving from Shanghai, the metropolitan city in China. We've built our reputation on getting the job done with the highest quality, in the shortest time frame, and with a competitive pricing.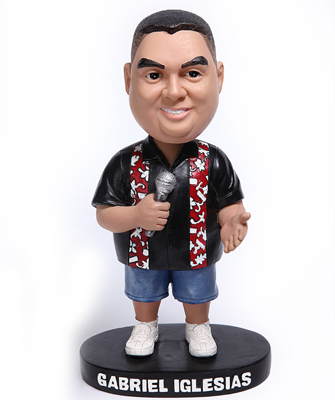 As a bobblehead factory, we make bobbleheads, action figure dolls, snow globes. We aren't some random Internet start-ups. We warmly welcome our friends to visit our factory at any time.
Bobblehead CHINA recognizes that your projects are the most important to us. You may not have time to follow them step-by-step through the process. That's where our professional staff comes in. Our goal is to work with you to develop timelines and approval process that get your bobble head to you with ease the first time around. You can feel confident leaving everything to us from design to shipping while you go on with the rest of your busy day.
Over 15 years, we have made millions of bobble heads, figurines and snow globes.
Here are a few jobs we did : ( Click to see photos)
Spiderman, Wolverine, Storm, Captain America, Cheer Bear, Daredevil, E.T., Scorpion King, Hulk for Comic Images,Missy Elliott for Coca-Cola Company promotion; Terry Tate for Reebok promotion; Vince Carter for Toronto Raptors;Pat the Patriot for New England Patriots, Eric Milton, Torii Hunter, Corey Koskie for Minnesota Twins, Cal Ripken for Orioles; Pete Vonachen, Greg Maddux, Mark Grace, Joe Giradi for Peoria Chiefs; Pat Borders MVP for Toronto Blue Jays; Brian McBride, Stern John, Brad Friedel, Cobi Jones, Crew Cat Mascot for Columbus Crew; Rusty Staub, Steve Rogers, Andre Dawson, Gary Carter, Tim Raines, Vladimir Guerrero, "Youppi!" Mascot for Montreal Expos;Pete Rose, Dan Marino, for Dreams Inc.; Barry Zito, Eric Byrnes for Sacramento Rivercats; Buddy Blood Drop for American Red Cross; Clyde Mascot for Millsboro Ford promotion; Dany Heatley, Ilya Kovalchuk, Byron Dafoe, Jeff Odgers for Atlanta Thrashers; Larry Hughes, Brendan Haywood, Etan Thomas for Washington Wizards; Bunny Bobble for Energizer promotion; Milo and Alan the Houston Astros announcers; Jean Beliveau, Jose Theodorefor Montreal Canadiens; and many, many more…