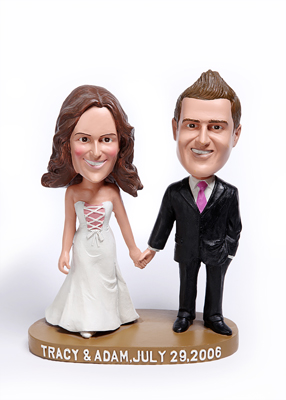 1. What materials are the Custom bobblehead dolls made of ? Are they safe to my children?
Our custom bobblehead dolls are made of polyresin which is a special mixture of oxylite and polystone. It can be molded as needed. This material can produce great detail, such as hair texture and very fine details. Each bobblehead design we make is handcrafted and hand-painted. We never use baked polymer clay as other companies did. So our doll can last long to your next generation without any possible cracking, breaking, color fading, etc.
Our experienced manager will give you suggestions how to design the doll to 100% safe for children. However our dolls are only suitable for children more than 14 years old.
2. What sizes can you make?
We can make any sized bobbleheads or figurines. The common size bobbleheads are 7-7.5 inches and 4.5 inches high, the common size figurines are 6 inches high.
3. Do you have a minimum order for Bobblehead Dolls?
Yes, our minimum order is 108 pcs..
4. Do you have standard bodies?
Sorry, we only make custom bobbles from head to toe, we do not have standard bodies.
5. What type of artwork is required to make a bobble?
Hand sketches, photos, in jpg, pdf, ai, etc. It's always best to have images from all four sides. Your bobblehead can only be as good a likeness of the person as the photographs you send. Try to send both a portrait shot of the person (a close up of their face taken from straight on), and a side-view photo showing the person's profile. We can do a great job without a profile photo, but if you have one, please include it. If possible, the photos should have hair, facial hair, and facial expressions similar to those you want on the doll.
If you do not have posed photographs, please send the best available front view photo you have. If the photo includes other people, please indicate in your email which person is the subject for the bobblehead.
6. What are the stages of bobblehead proofs ?
Sculpt clay – we will hand sculpt the doll to resemble the primary photo you attached to the order. At this time, you will be able to make any changes to the facial propertities, nose, mouth, skin texture, etc. Changes are done if necessary at no charge to you.
Complete proof – during this stage, we will mold and paint the doll and will show you the finished product, during this phase, the only changes are colors. If you need to make mold change, there will have some mold charges.
·NOTES The primary photo is used only to create the doll features. We always try our best to satisfy our customers. Also, remember, this is not meant to replace the person. It is to show a good similarity / resemblence / caricuture only.
7. Can you make our boss ( teacher / professor / coach / president ) into a bobble head ?
Yes, of course no problem. That is what we do. You will be impressed with the likeness. The whole process works best when you go over Startup Package and supply a front, side and rear photo of the person, along with a brief description of their most 'outstanding' physical or visual traits.
8. Can I do detailed logos?
Yes, we are expert to do detailed and complicated logos. If the logo is too complicated to be carved or painted, we can apply a decal (which we often refer to as a "tattoo"). This is good for very small logos, for example, a team logo on shorts. There is a small charge for the addition of a decal.
9. What do the bases look like?
We cam create any types of the base to meet your needs. Let us know your idea and we can design for you. Here are some bases for your choose
10. Can I have a custom pose?
Yes, it is our great advantage to make any type of poses for your bobblehead. Your entire bobblehead is customized to meet your needs. In addition to custom crafting your Bobblehead, we will offer you helpful advise on poses to avoid. Some poses dramatically increase the chance of breakage and problems in shipping. We work hard to prevent that, since a bobblehead damaged in shipment can spoil a great premium giveaway.
11. Can I have a approved physical sample in hand before you start producing the final product?
Yes, of course. However, we rely on electronic proofs, sent to our clients via email. This includes an email proof of the carving and a second set of email photos for the painting. This allows us to confirm the look and design of your bobblehead without the high cost.
Please visit Startup Package.
12. Why are your bobbleheads better than others I might find?
We think we have three primary advantages: our expert carvers, great pricing, and top quality
Carving: Undoubtedly you have seen bobbleheads that you can't identify. With other manufacturers, the true likeness of your bobblehead is lost at the first step of carving. We are confident that our carvers are the best in the industry. Fine details, exacting scale and lifelike facial designs make our bobblehead carvings the best you will find.
Pricing: We are bobblehead factory, no one can beat us for pricing.
Top Quality: With the strict quality control system, our workers have been making bobbleheads for more than 10 years, and we know how to make every piece of your order in perfect shape.
13. Is there a chance my bobbleheads will have lead paint?
We are aware of the lead concerns. We use paint that has been thoroughly tested and approved. We have copies of the lead testing reports that were completed on our paint manufacturer on file. It complies with CPSIA (or HR4040).
14. Can you make talking bobblehead?
Yes, your bobblehead can talk! Quantity can be from 500 to a million pieces. The talking time can be 12 seconds to 60 seconds. Your bobblehead can deliver any sales message, sing and anything you can imagine !We accept "wav" and "mp3" files. The costs may vary due to the order quantity and talking time. So click here for quote: info@bobbleheadchina.com
15. What should I do if there is a problem or if I want to change or cancel my order?
In sculpture stage, you can make any changes.
In the molding and painting stage, you can only make color changes.
Before the production, you can change the quantity, or even cancel the order.
16. Do you have extra charges if my bobblehead has logos, tattoo, a guitar, or small pet on the base or items such as necklace, rings, book, cup or hat?
No, we do not charge for that. The prices are shown there on our webpage, and there are final.
However, two cases make the prices different:
The added item is big, which is what we call "bobblehead with background".
The logo is too complicated to be painted, and we need to print decal, then we need to charge the decal costs.
17. Are there hidden costs not included in your price?
There are no hidden charges.
18. How much do you charge if I want to print boxes?
We do not charge the box set up fee if the order is more than 5000 pcs.
Order less than 5000 pcs, subject to quote.
19. How much will be the freight if we need to air ship the dolls?
Please let us know the delivery address, our shipping manager will give you the quote.
20. What are the payment terms?
You need to make the payment before the project is started.
You need to pay the sculpture and mold fee first, then 50% downpayment before we start production. Once we are ready to ship the order from Los angeles or Chicago facility, we will advise you of the freight charges. We can not start production until 50% downpayment is received. You can pay by T/T.
21. How long do you need to make my bobbleheads?
To make the unpainted clay sample: 7 – 10 days.
To paint the sample: 3 – 5 days.
Production:  we need normally 20-35 days dependant on quantity for production.
On completion and packing – we arrange Ocean freight or air based on your time line.
Ocean freight can take normal time 15-35 days (dependant on which destination port). All Custom Bobbleheads FOB LA or Chicago.
Most custom bobblehead jobs are delivered in 60 to 70 days.
22. Can you do RUSH orders?
Yes, we accept RUSH or SUPER RUSH order. However, the cost may vary due to the air shipment for rush orders. Please let us know the detailed info.
On orders over 100+ pieces, we can deliver in 4-5 weeks with air shipping and 2 months with sea shipping.
Please let us know the detailed info.
23. Will I be notified the update when my orde is in process?
YES! Our dedicated sales manager will send you updates every week.
After your order has been shipped, we will send you an email shipping notice, tracking number, or shipping documents, etc.
24. What happens if they all show up at my door and they are broken ?
Do not worry about breakage. Our experienced manager has solved this problem in the bobblehead design stage. We have an extremely low incident rate of broken product. Each bobblehead is carefully packed in a custom fitted plastic clamshell packaging and then placed in it's own cardboard box. For those easily breaking places, we usually put iron rod inside to ensure the safety. And we always make a few extra for you, so in the remote chance that one does break, it is easily replaced. No matter what happens, you only pay for product you receive in good condition.
25. What is your return policy?
Your satisfaction is guaranteed. If you find any problem with the quality or condition of your product which is obviously not same as the proofs, we will replace it at no charge. We will ship your replacement product completely at our expense. However all bobbleheads are hand-painted, it may have some very minor differences. It is impossible to make all the bobbleheads EXACTLY same. So approved sample is our final agreed product which we follow.
26. Can I get a free sample?
Yes, we can send you a RANDOM sample. Please email us your shipping address and phone number to info@bobbleheadchina.com. Requests made without a phone number will not be processed. The Fedex shipping cost is $75.
27. Do you have a printed catalog available?
Unfortunately, we do not have the printed catalog for the time being. Let us know your request by email plus your mail address once our catalog will be done.
28. Can you supply other premium products?
Yes, we do have 15 years experiencs of sourcing promotional products for sports teams, schools, many companies, charity organizations.
We are expert on snow globe, beach and rally towel, flip flops, silicone bracelets, caps, tote bags, rubber ducks, inflatables, pewter figurines, travel mugs, etc.